Dr. A
May 24, 2017
Posted By: Shaunescy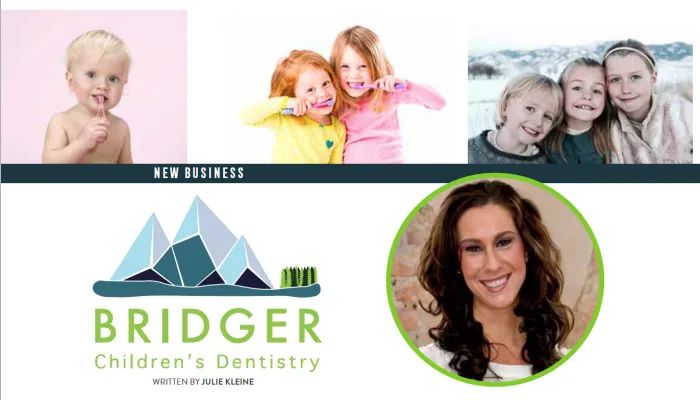 WRITTEN BY JULIE KLEINE
"Choosing a dentist is choosing someone to be part of your child's team," says Bozeman's newest pediatric dentist, Dr. Nasim Aleagha. That's how she views her role.
Dr. A, as her patients call her, is passionate about pediatric dentistry. She attended Columbia University School of Dentistry, where the focus is on oral health as it relates to overall health so dental students take classes right alongside medical students for their first two years. In her third year, she began working with patients. Once she started with kids, "It was so natural, so organic; like I had found my calling," she remembers. "It was not just dentistry anymore," she thought, "This is it. I am still the doctor, the professional, but I get to have fun and be silly at times. It's all parts of my personality wrapped together. I can't imagine doing anything else."
Dr. A's mom, Betty, was an influential professional role model for her daughter. "I thought my mom was so cool getting dressed up in her suits with big shoulder pads, carrying her briefcase and heading off to the big city,'' she remembers. "We always went to Take Your Daughter to Work Day. She was a strong figure for me." Now her mom is working right alongside her in this venture. "It is truly a family affair," they agree.
After working as a dentist for 10 years in multiple cities, Dr. A is not new to the profession, but, "This is the first time I am really doing it for me," she shares. "My heart, my soul, my energy, my everything is here."
With a May 1st opening, Dr. A can now focus her energy on her patients. "Through my experience, I have found my style," she notes. "I am proud of the rapport I have developed with children because having kids feel comfortable is key to successful treatment." However, as Dr. A knows, working in pediatric dentistry does require having a great rapport with parents as well. "I've become more of a listener and am very in tune with parents and the approach that they want to take," she says. She addresses concerns, such as parents being present in the treatment room and administering fluoride, on a case-by-case basis. "Every child is unique so we like to work with parents to come up with a way of rendering treatment that is comfortable for everyone," she says. "I listen closely to the parents' position, but also carefully evaluate risk. We have to tailor our approach appropriately."
Knowing how important it is to start proper dental care at young age, one of Dr. A's goals is to remove barriers blocking access to care. "Money should not be a reason why we don't treat our children's teeth," she believes. "I've seen families struggle firsthand, I've seen insurance premiums double. I don't want any barriers to children in the Gallatin Valley having access to care. Whatever I can do to take the burden away from children receiving access to dental care, I will. I am very passionate about that."
Because her training emphasizes a holistic approach, Dr. A states, "It is important not to isolate the mouth from the rest of the body. We are treating kids in totality to be healthy adults. My job as a health care provider is to give parents as much information as I can, but in the end each child has multiple caregivers and I am one piece in that puzzle. I approach everything in a team approach."
With her team approach to dentistry, it is not surprising that her next goal is to become more involved in the community. "Bozeman has the great sense of community that I have been looking for my whole life," she muses.
Bridger Children's Dentistry is located across the street from Bozeman High School. It's a pleasant space with a fresh, modern feel, playful colors accenting walls, a nook just for kids and the latest in dental technology. TV's with Netflix are provided in exam rooms to help put children at ease, but the biggest draw is the energy from Dr. Aleagha herself.
For more information about having Dr. Aleagha as part of your child's team, visit bridgerchildrensdentistry.com .
__________________________________________________
Julie Kleine lives in Bozeman with her husband, three children and numerous animals. She is involved in many endeavors from teaching kids' nature connection camps to working at the library, but she most loves to be roaming in the woods!
Thank You to Our Sponsors