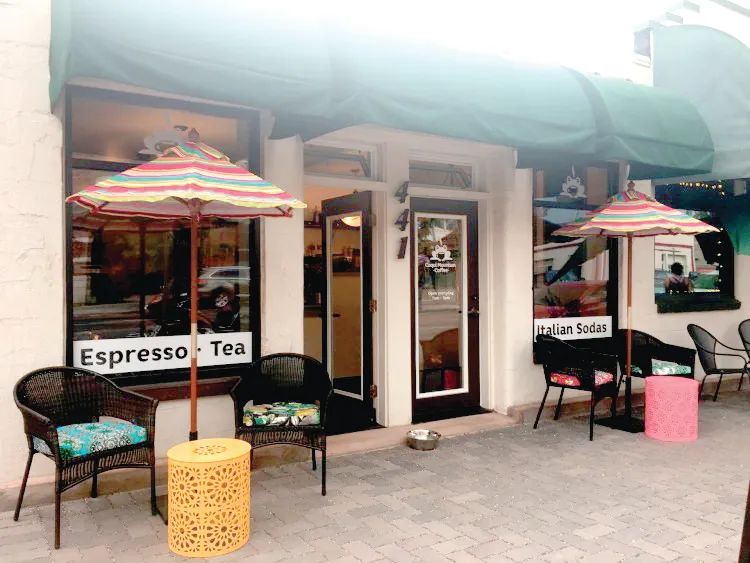 Coquí Mountain Coffee
Written by Julie Kleine
Walking into Coquí Mountain Coffee on East Main Street feels like stepping out of Bozeman and into the tropics. A beautiful mural depicts tropical lushness; frogs and colorful masks adorn the walls – but look closely and you'll see a few bits of Bozeman as well.
"Everything is an amalgamation of both sides of my family, Puerto Rican and Irish Montanan," explains owner Julie Gandulla. "Throughout the shop I tried to show our connection to Puerto Rico. Our house coffee is always Puerto Rican and the Coquí name comes from the small frogs that inhabit the island. The male sings his name: ko-kee. They are everywhere and I love it!" The mural also depicts Frog Rock, the limestone formation jutting up near Bozeman Pass, paying homage to Julie's Bozeman roots. "Lots of thought went into the place," she acknowledges.
Julie grew up in Bozeman with a Puerto Rican dad and a mother who is Butte Irish. "All of my paternal side is from Puerto Rico, and we spent time on the island growing up." Her childhood provided two unique cultures, which she has melded together.
It all started several years ago, when the opportunity arose for Julie to start her own business next door to the Western Café, which is owned by her mother. Coffee became her focus. "When I get into something, I go all out in reading, researching and taking classes," says Julie. Her shop is evidence of that; visiting with Julie is a lesson in history, culture and environmental responsibility – all centered around coffee.
"Most of us have never tried Puerto Rican coffee, although it was the most widely sought-after coffee about 100 years ago." Due to politics and infrastructure, large-scale coffee production declined, but it is still a dominant part of Puerto Rican culture. "Most Puerto Ricans have a small part of their yard for coffee plants. Even kids drink coffee," says Julie.
"I visited six or seven fincas around the island and went with the one that resonated most with me because of family background and environmentally conscientious practices, Café Aromas del Campo Roasta. They are amazing third-generation growers, awesome people."
Many factors can affect the taste of coffee – not just the species. How it is grown, the type of soil, nearby plants, etc. "Coquí Mountain's Puerto Rican coffee is Arabica, which grows in the shade where it can flourish with other native plants and take on different taste attributes. Because Puerto Rico focuses almost entirely on Arabica it helps the environmental impact too," explains Julie.
And then there is the washing, drying and roasting. According to Julie, "With most coffee processing, you are losing half of the flavor. We use a honey process where only the outer skin or pulp is removed." The sticky outer layer of the fruit is not washed off prior to drying, which uses a lot less water and tends to produce beans that are less acidic and sweeter. "If you strip it down, you have lost three layers of what coffee is supposed to give the palate. If I am going to bring you coffee from Puerto Rico, I want to give you the full flavor."
For Julie, this philosophy has crept into all aspects of her shop. "A lot of things we do reflect the care I put into sourcing my coffee. It was like a domino effect. Every time I took a step, I tried to stay in synergy with all I am giving to my customers. On a finca plantation tour, I learned how to make things totally differently than I ever thought of before. We don't do drip coffee, only pour over; I only have certain size glasses – nothing over 12 ounces. There is a reason for all of that. The growers told me, 'You are ruining my coffee, you are drowning it!' We can play with flavor and the amount of shots, but you don't have to supersize. Once I woke up to that concept, I woke up to everything and became firmer about it. My family recipe for café con leche is super simple, but people love it. Instead of a ton of sugar, it's how we whisk the sugar. To have a dairy alternative, we make our own almond milk."
Her quest has gained attention. "We have a lot of regulars. I find that the people who come in and see what we are doing and why end up being super dedicated. And I never advertised, I just opened the door."
Coquí Mountain Coffee also serves Italian sodas, kombucha, teas and baked goods. There is a game area, daily specials and Julie's children may even be there helping out!
Find out more at coquimountaincoffee.com or just stop in for a cup at 441 E. Main.
Julie Kleine lives, loves and writes in Bozeman with her husband and three children. Reach her @ jkleine200@yahoo.com.
Thank You to Our Sponsors