Win a Family Four Pack of tickets to MBC's GREAT BALLET CLASSICS
April 05, 2016
Posted By: Shaunescy
Win a Family Four Pack of tickets to MBC's GREAT BALLET CLASSICS  SUNDAY, APRIL 17, 2016 performance!
MBC's GREAT BALLET CLASSICS, with Live Music is happening on SATURDAY, APRIL 16, 4:00 PM AND SUNDAY, APRIL 17, 2:00 PM at THE WILLSON AUDITORIUM - BOZEMAN. TICKETS are priced from $15 to $55. PURCHASE TICKETS BY CALLING THE MONTANA BALLET COMPANY AT 406.582.8702 OR ONLINE AT www.montanaballet.org.
To enter, Pick a number between 1 and 200 and type it in the comments section. At 5:00 pm on this Saturday, April 9th we will pick a winner. The first person to pick our number (or to come the closest to it with without going over) WINS.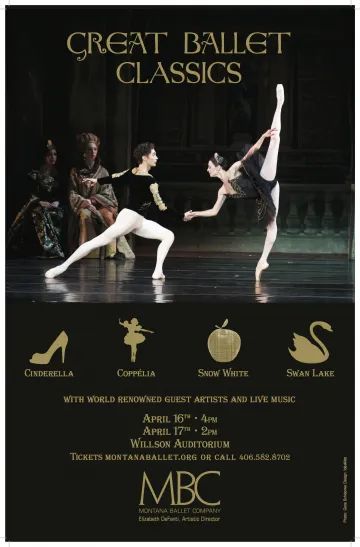 Montana Ballet Company (MBC), under the direction of Elizabeth DeFanti, announces its world premiere performances of Great Ballet Classics on Saturday, April 16 and Sunday, April 17 at the Willson Auditorium. This production is generously underwritten by: Tim and Mary Barnard, the Gilhousen Family Foundation, the Montana Arts Council's Public Value Partnership, and the Steinmuller Family Charitable Fund.
Great Ballet Classics will celebrate excerpts from some of the most beloved story ballets of all time including Cinderella, Coppélia, Swan Lake and Snow White.
For this brand new production, Montana Ballet Company is thrilled to welcome guest choreographer Winthrop Corey, Artistic Director of Mobile Ballet and former principal dancer with the Royal Winnipeg Ballet and National Ballet of Canada. Mr. Corey's exquisite Ballroom scene from his original Snow White will captivate audiences, featuring special guest artists Victoria Barker and Raul Peinado.
Another highlight on the program is the famous Black Swan pas de deux from Swan Lake, to be danced by world renowned guest artists Vilia Putrius and MIndaugas Bauzys, principals with Festival Ballet Providence. Our community will recognize Ms. Putrius and Mr. Bauzys, having beautifully graced the stage in past productions of MBC's annual Nutcracker.
Also on the program are favorite selections from the classic, Coppélia, along with the seasons from Cinderella, and the Dying Swan solo set to Saint-Saens beloved score. Esteemed local musicians will provide live music.
For Great Ballet Classics tickets contact the Montana Ballet Company at 406.582.8702 or online www.montanaballet.org.   All seating is reserved. Ticket prices range from $15 - $55. ______________________________________________________________________________
MONTANA BALLET COMPANY "SPECIAL GREAT BALLETS EVENTS"
*On Thursday, April 14 at MBC studios, Winthrop Corey will teach a special master class for Intermediate and Advanced students from 5:30 – 7 PM. Mr. Corey is the Artistic Director of Mobile Ballet and former principal dancer with the Royal Winnipeg Ballet and National Ballet of Canada. He has taught and choreographed extensively across the United States and abroad, having served on faculty at the Joffrey Ballet School and American Ballet Theatre. Please call MBC at 406.582.8702 or email, info@montanaballet.org to reserve a place in this class.
*On Saturday, April 16 at the Baxter Ballroom, Montana Ballet Company will host its 4th Annual Spring Soirée Fundraiser, generously sponsored by Baxter Events. This exclusive event for 120 guests will follow MBC's Great Ballet Classics performance. Guests will gather to celebrate MBC in its 32nd Annual Season, while enjoying live jazz, fine food with paired wine, and the opportunity to meet all of the Great Ballet Classics guest artists. Contact MBC at 406.582.8702 for reservations.
Season after season, MBC produces quality performances, enchanting audiences with new and updated artistry of dance, choreography, music, and design. MBC's Great Ballet Classics production promises to be dazzling! For more information please contact:  Montana Ballet Company, 406.582.8702 / info@montanaballet.org

Thank You to Our Sponsors