Go stay in West Yellowstone!
March 01, 2018
Posted By: Shaunescy
Now that the  Montana Parent  March issue is off to press, I'm thinking back to a recent adventure to West Yellowstone with my family. It was a blast! I hadn't stayed in West before during the winter, and even with a weekend-long blizzard my family and I enjoyed cross-county skiing with the dogs on a maze of local trails, a movie at the IMAX theater, and exploring and eating our way around town. The cabins are adorable, clean, have all the amenities of a hotel room, but with bedrooms, a gas fireplace and kitchenette. (If you ask ahead, there are a few pet-friendly cabins.) And bonus with kids, you can go to a nearby hotel to use the swimming pool and game room. There were high hopes of enjoying the famed s'mores by the fire at the Explorer Cabins (they give you a s'mores kit) but instead the blowing snow gave us a great excuse to enjoy the Olympics, some Yahtzee games, hot cocoa and a glass of wine or two by the fire in our cozy cabin. To top it off, a moose poked its head out of the bushes in Yellowstone and we got a glimpse of sunshine in Big Sky on the way home! Check out our Facebook or Instagram pages for more pictures and a couple of videos of the cabin and cross country skiing from our teenage travelers.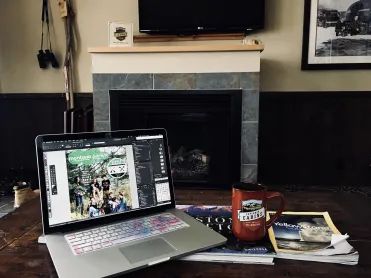 Tip:  If you need to rent cross-country ski's or snow shoes, go to the Free Heel and Wheel. It's only a couple blocks from the cabins and also features a coffee shop and outdoor store.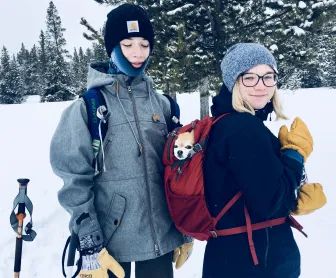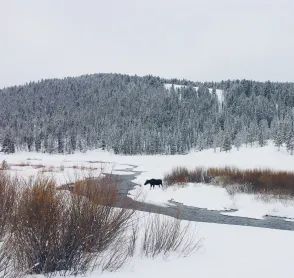 Bucket list for next time: s'mores by the fire, snowmobile or snowcoach tour of Yellowstone, the Grizzly Discovery Center and in the summer, and we would love to check out the Spanish Tapas place (yeah, in West) with amazing reviews!
For more information about the Explorer Cabins at Yellowstone visit:  https://www.yellowstonevacations.com/stay/explorer-cabins-at-yellowstone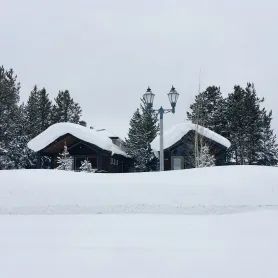 Thank You to Our Sponsors