The Family Business—Earth's Treasures
September 13, 2017
Posted By: Shaunescy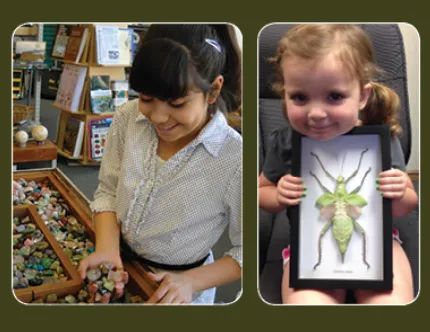 WRITTEN BY JULIE KLEINE
One of Earth's Treasures mottos is, "Come as a customer... leave as a friend." On a recent visit to the store in downtown Bozeman, I find it to be true. Patti Albrecht, the owner, is warm, energetic and full of engaging stories. Although we've never met before, she welcomes me in with a hug.
As we wander through the store, Albrecht picks out pieces and shares what fascinates her about each object. Along the insect wall, the Blue Morpho butterfly specimen catches her eye. We marvel at its beauty. "It's not dyed, it's refractional light creating iridescence," she explains. "Structures in the wings are reflecting some light back and absorbing the rest." As she turns the butterfly over, the dull brown of the other side is shown. "In flight, the butterflies seem to appear and disappear as their wings move up and down," Albrecht continues, "Phone icons are designed using technology mimicking this."
What started in 1989 as a prospecting supply store has transformed into not just a store, but a small museum filled with stunning rocks and crystals, unique fossils and beautiful jewelry. From polka dotted and striped insects to dino poop, Earth's Treasures is full of extraordinary finds.
Albrecht leads me to a glass case and asks if I want to hold a meteorite. I am definitely intrigued. It is heavy. "You are holding a piece of a shooting star that was once blazing across the sky," she says. Wow.
The interesting stories continue as we explore the store. "It's fun to see where a customer's eye goes, and then they come around again and see something new. Sharing stuff with people, helping people find the perfect thing, that's what it's about for me," she laughs, "I like to try to get firework sounds out of people, the ooohs and ahhhs!"
I am no exception. As she points out a piece of feldspar and other minerals with tiny green crystals on top, the ooohs come out. "It's beautiful," I remark. Albrecht replies, "I love the artsy pieces."
The store is filled with unique finds, but one of the best parts of Earth's Treasures is the friendly vibe. Although Albrecht is often meeting with sellers, pricing or at shows finding new inventory, she assures me her staff is just as eager to share the fascinating stories as she is. "Be sure to ask for stories," she advises, "My staff and I love to share the stories behind our merchandise."
We head over to the dinosaur bone fossils. "This fossil is really cool to me because you can see exactly how it was in the ground. Often collectors put the pieces together and fill the cracks to make replicas. I think it is so interesting to see all those puzzle pieces," she says.
"Education has always been a priority. We've always given free field trips to school groups," Albrecht continues. "There are so many cool things to do outside, many kids are not naturally drawn to rocks. I hope I can inspire them to sometimes keep their eyes down. You never know what you might find."
To ensure that children can find a treasure for themselves in the store, colorful polished rocks start at just 50 cents. In addition, Albrecht says, "We give a discount to kids if they spend their allowance money so they can take something home."
Although Patti's own children are now grown, she brims with enthusiasm as she describes activities to do with kids. She hands me three pieces of soapstone. "Have your kids ever used this? They can carve it with a harder rock into a shape they like, and then polish it with oil to make it shine." My kids will be thrilled.
Patti's energy is contagious. I leave with the lingering sensation of the weight of a shooting star in my hand, eager to share the soapstone gifts and my own stories about what my new friend has shown me.
________________________________________________
Julie Kleine lives in Bozeman with her husband, three children and numerous animals. She is involved in many endeavors from teaching kids' nature connection camps to working at the library, but she most loves to roam in the woods!
Thank You to Our Sponsors