Pet Pals - Heart of the Valley Offers Exciting Summer Camp Opportunity
April 26, 2016
Posted By: Shaunescy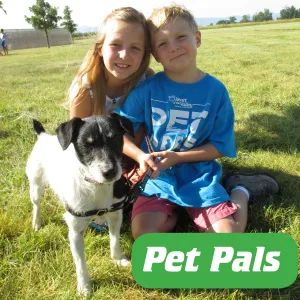 Written by Sarah Carter
As you are crafting your child's summer camp plans, consider sending them to the animal shelter. Not because they might growl when they are hungry, hiss when they are tired, sometimes drool or need the safety of a four sided kennel. Although those things might be true, Pet Pals Summer Camp at Bozeman's Heart of the Valley Animal Shelter is one of the many animal shelters and humane societies across the country offering an educational summer day camp for animal loving children. Campers will spend their days taking care of shelter cats and dogs, learning about responsible pet care, discovering animal-related careers, and engaging in fun animal crafts and outdoor fun. Still not convinced? Here are a few more reasons why you should send your child to Heart of the Valley this summer!
Humane Education helps foster compassion and empathy. Children can have an innate connection to animals and can learn important social skills through interacting with companion animals. Pet Pals Camp provides Human Education through lessons and direct animal care, which teaches youth that animals are living beings with feelings and should be treated with respect and compassion.  Developing students' compassion, empathy and kindness early in life will increase the chance these values will endure throughout adulthood.
Pet Pals Camp helps educate future pet owners. Has your child been asking for a pet? Give them a taste of pet ownership before making the commitment. We'll teach your child how to safely walk and interact with animals, read cat and dog body language, train dogs, and engage in other aspects of responsible pet ownership. After camp, children will have a much better understanding of what it takes to responsibly care for a companion animal.
Camp provides valuable time with animals for children who can't have pets at home. Do you live in an apartment that doesn't allow pets but want your child to experience the joy of companion animals? Does someone in your family have a pet allergy, but your child loves animals? Pet Pals Camp is the perfect solution to give your child valuable time with companion animals.
Pet Pals teaches kids how to give back to their community.   Heart of the Valley provides one of the few opportunities for children to volunteer and give back to their community. Campers will learn all about the shelter operations, help take care of shelter animals, and learn how to support animals in need.  After camp, children may continue their relationship with the shelter by joining our Junior Volunteer Program or hosting a Birthday Party at the Heart of the Valley.
Animal lovers discover new career opportunities. Each week campers will learn from Heart of the Valley staff, such as our Animal Behavior Consultant, Veterinarians, and Feline/Canine Technicians.  In addition, guest speakers from animal-related organizations will visit Pet Pals to share what they do and introduce their animals to campers.  This year, guests during your week of camp might include rabbits, therapy animals, search and rescue dogs, herding animals and more!
Sarah Carter is the Youth Education and Outreach Coordinator at Heart of the Valley Animal Shelter. She would be happy to provide you with more information and answer questions about Pet Pals Summer Day Camp and can be contacted at education@heartofthevalley.org . Pet Pals sessions are already half full, so if you would like your child to attend please register soon at http://www.heartofthevalleyshelter.org/education/just-for-kids/ .
Thank You to Our Sponsors