OWENHOUSE ACE INSTALLS CITY OF BOZEMAN'S LARGEST SOLAR ARRAY
December 16, 2016
Posted By: Shaunescy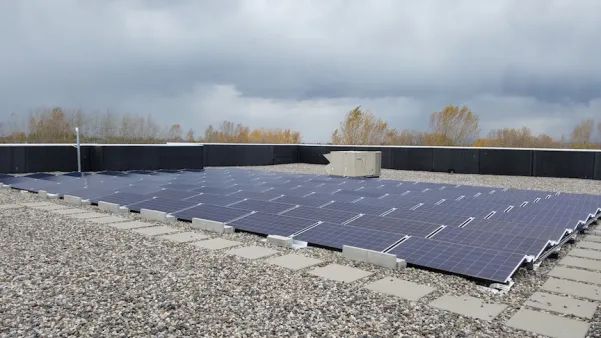 Using a combination of US Department of Agriculture grants and Federal tax incentives, Owenhouse ACE recently installed Bozeman's largest commercial solar array within the city limits.
Reaching the NorthWestern Energy-mandated cap of 50 kWh, the array occupies only part of the "west store" roof on Huffine and will offset over 13% of the building's energy requirements.
For Eric Bowman from Owenhouse ACE, "It was an easy decision to go ahead with the project". The energy production will really ramp up in the coming months and he is "eager to see the impact of the system when it starts to generate significant power in the spring".
 Thunderbird Development   approached the Bowmans in early spring to discuss the USDA Rural Energy for America Program cash rebate of 25% of installation cost for businesses in and around Bozeman. Paired with the Federal Investment Tax Credit of 30%, the Owenhouse ACE installation was almost 50% subsidized, bringing the cost of installation down and dramatically reducing the return on investment.
Bozeman's Harvest Solar  , Owenhouse ACE, Thunderbird, and the local USDA office applied for and won funds for a summer installation. Brad VanWert's team at Harvest Solar had Bozeman's largest commercial solar installation ready to connect to the grid and start saving the business money each month within five days.
Says Mr. Bowman, "Bozeman is an expensive place to run a business so it's important to take advantage of any place that we can save on fixed costs".
The US Department of Agriculture grant application deadline is March 31, 2017 and the program remains funded through at least the first year of the new administration. Bozeman is considered "rural" only through 2019 and afterwards the USDA REAP grant will not be available to businesses within the city.
Thank You to Our Sponsors