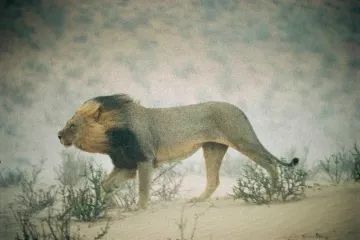 Kalahari Gemsbok National Park, South Africa 1996. A lion patrols the dry Nossob riverbed, center of a vast refuge for big game. Photo by Chris Johns
February 15, 2016, Bozeman, MT -  Museum of the Rockies is bringing two visually engaging photographic exhibits to Bozeman and the Gallatin Valley on Saturday, February 27, 2016.
National Geographic's 50 Greatest Photographs is a breathtaking journey through the 125 year history of the magazine. National Geographic photographers have presented some of the most striking images of our world ever captured on film. In MOR's new exhibit, visitors will not only see the photos as they appeared in the magazine, but also learn the stories behind the images and about the photographers themselves. For some images, visitors will be able to view the sequence of photographs captured in the field before and after the perfect shot.
Across the Andes, also opening at MOR, chronicles Deia Schlosberg and Gregg Treinish's trek across the length of the Andes Mountain Range from the equator south. Creating a new route, they covered 56 degrees of the globe and more than 7,800 miles through some of the most difficult conditions on Earth, and some of the most beautiful landscapes imaginable. Their incredible adventure has been captured in this exhibit by 60 large-format photographs, personal journal entries, insights into the Andean way of life, stories and maps. It's a journey that led to National Geographic naming Gregg & Deia Adventurers of the Year.
MOR Members are invited to a Members Only exhibit preview on Friday, February 26, 2016, from 5:00pm to 7:00pm, where they will be able to explore both exhibits as well as catch the newest show at the Museum's Taylor Planetarium, To Space and Back. National Geographic's 50 Greatest Photographs is sponsored by F-11 Photographic Supplies and James Bond Family Dentistry. Across the Andes is sponsored by Feast Raw Bar and Bistro.
About Museum of the Rockies (MOR)
Museum of the Rockies is both a college-level division of Montana State University and an independent 501(c)(3) nonprofit institution. Accredited by the American Alliance of Museums, MOR is one of just 776 museums to hold this distinction from the more than 17,500 museums nationwide. The Museum is also a Smithsonian Institution affiliate and a federal repository for fossils.
MOR Mission
Using the past and present, Museum of the Rockies inspires life-long learning in science, history, culture, and art; advances knowledge through collections, research and discovery; and presents engaging, vibrant exhibits and programming. MOR brings the world to Montana and Montana to the world.
For more information visit  museumoftherockies.org  or call 406.994.2652.
Thank You to Our Sponsors