Live Red-Tail Hawk to be Released at Montana Raptor Conservation Center's Family Fun Day
August 02, 2016
Posted By: Shaunescy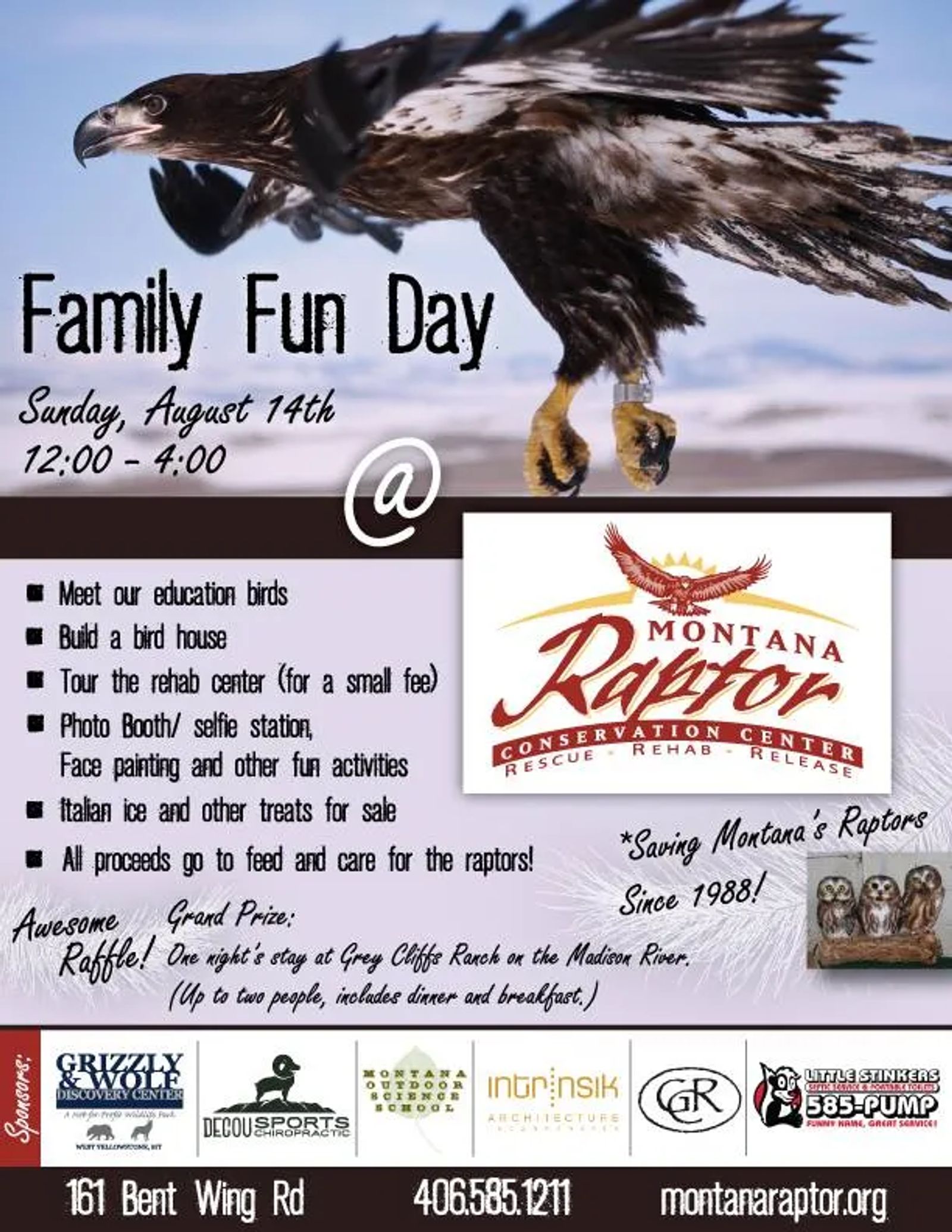 The Montana Raptor Conservation Center (MRCC) will release a Red-Tail Hawk into the wild at its annual Family Fun Day Sunday, August 14. The sub-adult male hawk was admitted to MRCC with a fractured humerus on May 20 and has spent the last few months receiving medical treatment, physical therapy, and other care as he regained the ability to fly and hunt independently.
"This hawk required surgery to stabilize the bones for proper healing," recalls MRCC Director Becky Kean, who retrieved the injured bird from the Mill Creek area near Livingston. "He wasn't flying well for a long time, but suddenly everything clicked and he's showing us that he's ready to get back out there." Kean notes that its likely the young raptor hasn't reached sexual maturity, so he does not yet have an established territory.
"We hope the community will come out to help us celebrate this raptor's success," says MRCC Assistant Director Jordan Spyke. "There's nothing quite like seeing a wild animal released back into nature. Family Fun Day is also a great opportunity for people to learn more about how important raptors are to our ecosystem."
Family Fun Day will be held at the Montana Raptor Conservation Center (161 Bent Wing Rd.) on Sunday, August 14 from 12:00 to 4:00 pm. Staff and volunteers from MRCC will be on hand along with the Center's ambassador birds (rescued raptors that are unable to return to the wild). They will answer questions regarding raptor traits, behavior, and how MRCC rescues, rehabilitates, and releases injured birds of prey.
MRCC and its partners, including the Montana Outdoor Science School, Zoo Montana, and the Grizzly and Wolf Discovery Center, will have numerous kid-friendly, educational activities on hand. Dissect owl pellets, build a bird house, tour MRCC's rehab facility, get your face painted, take photos at our photo booth/selfie station, enjoy Italian ice and other treats, and win fantastic prizes in our Family Fun Day Raffle!
Grand Prize: One night's stay at Grey Cliffs Ranch on the Madison River. Up to two people, includes dinner and breakfast.
Raffle tickets are $5 each, or five for $20 and onsite at the event.  Many additional prizes, donated by local businesses. Need not be present to win.
Family Fun Day is free and open to the public. Donations are welcome. All proceeds go to the construction of a new educational amphitheater on the MRCC grounds.
About MRCC: Founded in 1988, the Montana Raptor Conservation Center (MRCC) is a 501(c)(3) nonprofit whose mission is to improve the welfare of raptors across Montana through rehabilitation of injured birds, community education, and partnerships for raptor conservation and research.
www.montanaraptor.org
Montana Raptor Conservation Center—Saving raptors since 1988
Thank You to Our Sponsors