Footsteps for Prevention |  East Helena Hosts Second Annual Out of the Darkness Campus Walk
April 11, 2018
Posted By: Shaunescy
April 28, 2018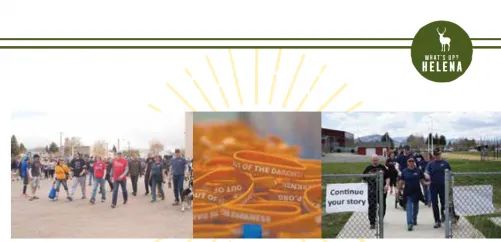 When Tova Reddick-Starkel lost her 16-year old cousin, Brayden, to suicide more than two years ago, she and her family reeled from the unimaginable grief. Yet, as clarity returned following his unexpected loss, Reddick-Starkel came to a resolution: Something had to be done.
"Losing someone to something that is preventable is unacceptable," she said. "We have to bring suicide out of the darkness and into the light."
Hoping to help others avoid losing loved ones to suicide, the Montana Veterans Affairs nurse executive and mother of four quickly educated herself on the issue. According to the American Foundation for Suicide Prevention (AFSP), suicide is the second-leading cause of death among people 10-44 years old in Montana. "We need to reach those who need us, who are in crisis. We need to be innovative in our intervention, education, advocacy, and we have to be a steady support to those who have lost a loved one to suicide," she said.
Reddick-Starkel joined up with Heather Ireland, a founder of the East Helena Suicide Prevention & Awareness Coalition and fellow East Helena Schools' alumnus. The two worked with AFSP's Montana Chapter to organize East Helena's first Out of the Darkness Campus Walk in 2017. Intended to increase awareness about suicide and mental health, while instilling hope in communities, Campus Walks also help fund AFSP's local and national education and advocacy programs as well as its goal to reduce the annual suicide rate 20 percent by 2025. Now entering its second year, the walk is expected to be bigger and better than its inaugural year, which drew more than 700 people and raised more than $31,000. "It brought the community together and allowed for conversation about a very sensitive subject and about a stigma that needs to be broken," Ireland noted.
Set for 2 p.m. on Saturday, April 28, at East Helena City Hall, the walk begins with speeches from Rep. Mary Ann Dunwell, East Helena Mayor James Schell, Schools Superintendent Ron Whitmoyer and another special guest. Participants will then walk a route that includes Radley Elementary and East Valley Middle School.
After the walk, the first 500 participants who wish to eat will be treated to a free barbecue provided by Smith's Place. The walk includes a resource fair highlighting a variety of local organizations.
To learn more and to register, please visit afsp.org/EastHelena . Follow the event on Facebook at facebook.com/OOTDEastHelena/ .
Thank You to Our Sponsors