Big Brothers Big Sisters Launches 30 MENtors in 30 Days Campaign: Mission Possible
July 26, 2016
Posted By: Shaunescy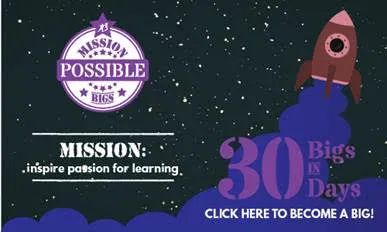 Big Brothers Big Sisters of Gallatin County is celebrating the month of August 2016 with a campaign to recruit 30 new mentors, focusing primarily on adult male mentors, or "Big Brothers."
The effort is a juiced-up version of existing recruitment work that the Gallatin County non-profit has done for years. The agency recruits, screens, and matches caring adult mentors ("Bigs") with children facing adversity ("Littles"), and the adversity takes many forms. "Nationwide, there's a misperception that BBBS focuses only on low-income children, or only on children with a specific background. The reality is that some of our Littles do face particularly intense adversity, but there are no income qualifiers to enroll, and the kids in our program come from all walks of life. Each one needs another caring adult in his or her life," says Megan Cummings, VP of Programs. "We used a tagline a couple years back: 'We need all kinds of Bigs for all kinds of Kids.' That is absolutely still the case."
The goal of the August recruitment campaign is to reach at least 30 new Bigs in Gallatin County, enrolling them in the program and matching them very carefully and conscientiously with a child. In particular, the campaign seeks fun-loving, caring adult men to mentor the more than 20 Little Brothers waiting for a Big.
Bigs and Littles spend 1-2 hours a week together, doing activities they both enjoy. BBBS staff support matches with regular phone calls, activity ideas, and optional monthly outings. "Some weeks, a Big and Little might go to the park and kick a soccer ball around. Another week, they might get ice cream together. It really depends on their own interests," explains Cummings.
Matches are long-term, professionally-supported, one-to-one mentoring relationships, although Big Couples and even Big Families are an option; in these cases, a Big Couple or Big Family is matched with a single Little. Independent studies find that Littles are more likely than their peers to show improvement in school, behavior and self-esteem, and aspirations.
No need to wait until the official start of the August campaign! Aspects of the campaign are already underway, and potential Bigs and Littles can contact the office anytime to discuss enrollment and other ways to support the work of Big Brothers Big Sisters of Gallatin County. To get involved, call 406-587-1216 or email Cummings at megan.cummings@bbbs-gc.org.
Thank You to Our Sponsors