BIG BROTHERS BIG SISTERS' 2016 BOWL FOR KIDS' SAKE - 25 Years of Bowling for Gallatin County Kids
August 23, 2016
Posted By: Shaunescy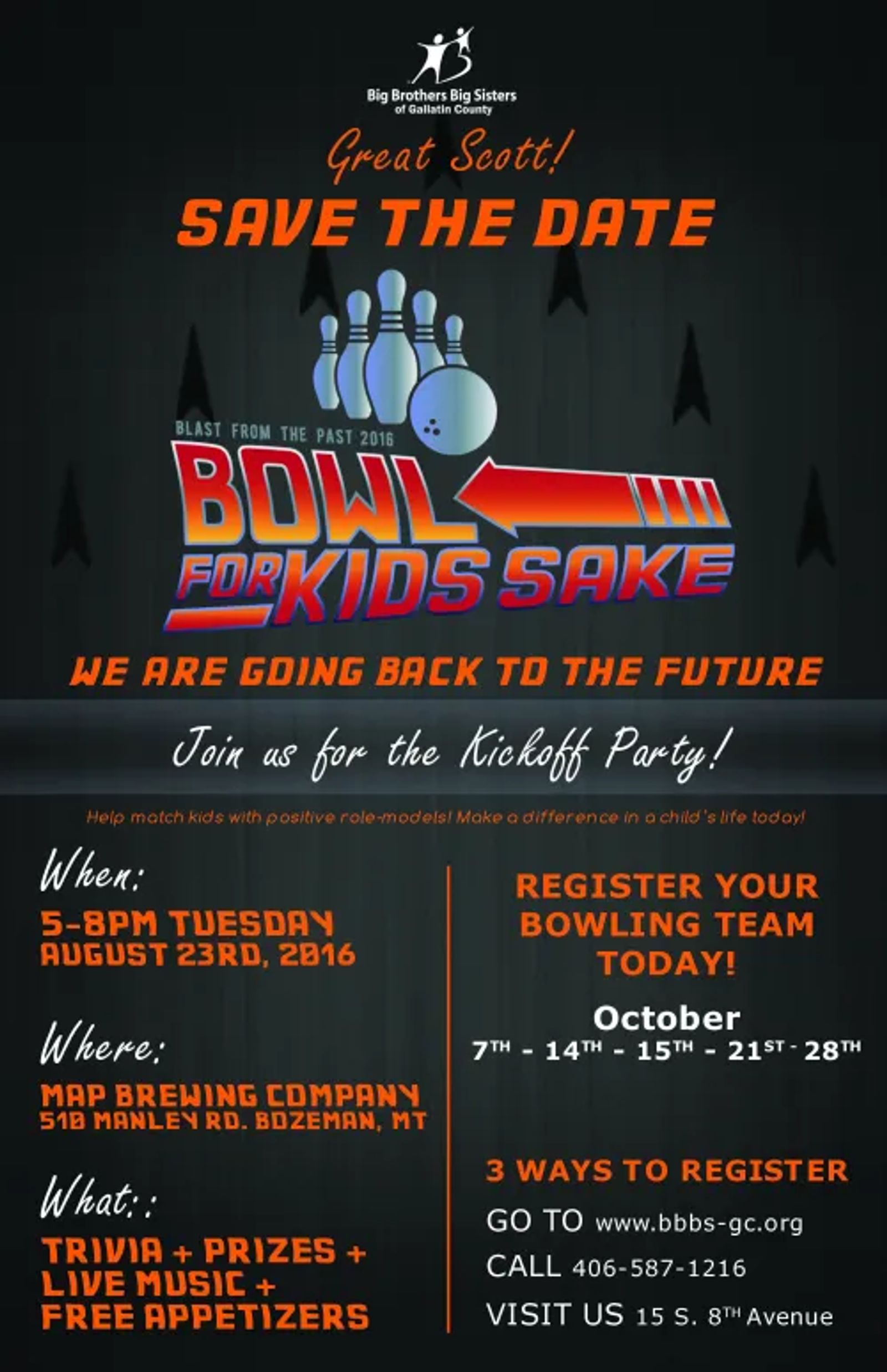 Big Brothers Big Sisters of Gallatin County is looking for businesses, organizations, and individuals to participate in its annual Bowl For Kids' Sake event. The event takes place on October 7th, 14th, 15th, 21st, and 28th at The Bowl in downtown Bozeman. This year marks the 25th year of Gallatin County bowling to support local kids facing adversity.
We are holding a Kickoff Party at Map Brewing on Tuesday, August 23rd from 5-8pm, which is open to all prospective bowlers. Trivia, live music, & appetizers will be provided. The Kickoff Party is a great opportunity for bowling teams to pick up their team packets and learn best practices on making fundraising efforts successful.
Last year, nation-wide, Bowl for Kids' Sake was the largest athletic fundraiser of any youth-serving organization. In 2015, our local Bowl for Kids' Sake drew 95 teams. The goal this year is to have more than 120 teams and to raise over $98,000!
Local businesses can support the event by becoming event and lane sponsors, donating prizes, and encouraging employees to participate as teams of five bowlers. Each bowler is encouraged to raise $100 in donations and then celebrate with two hours of free bowling, food and drinks, prizes, t-shirts, and more! Top fundraising teams will be eligible to win exciting prizes.
Participating in Bowl for Kids' Sake as a bowler, team, sponsor, or volunteer helps local children achieve success in life. Every dollar raised through Bowl for Kids' Sake will directly fund local Big Brothers Big Sisters matches in Bozeman, Belgrade, Three Forks, Manhattan, Ennis, and Big Sky, providing children with positive long-term mentors.
To be a part of Bowl for Kids' Sake 2016, call Big Brothers Big Sisters at 587-1216, visit www.bbbs-gc.org, or stop by the office at 15 South 8th Avenue (Bozeman). Businesses wishing to sponsor the event or volunteers who would like to help out on bowling days are also encouraged to call for more information. Major sponsors for the event are ABC/FOX and Townsquare Media.
Event Name: Big Brothers Big Sisters' 25th Annual Bowl for Kids' Sake
Dates: October 7th, 14th, 15th, 21st, and 28th (but fundraising starts immediately!)
Location: The Bowl in Downtown Bozeman
Event info: Form a team of 5 and raise $500 to support Big Brothers Big Sisters of Gallatin County. Then celebrate your fundraising success with a 2-hour bowling party! All proceeds go towards matching local kids with positive role models and mentors. Thank you for your support!
Entry fee: Teams of 5 are asked to raise $500/team or $100/person (includes prizes, gifts, food, drink, and 2 hours of free bowling)
To register your team or for more info: Call 587-1216 or visit www.bbbs-gc.org
Thank You to Our Sponsors