Adventures in Tidyinghood: Spring in Montana
May 06, 2019
Posted By: Jessica Geary-Cecotti
:: WRITTEN BY JESSICA  GEARY-CECOTTI ::
While technically this is not an actual Konmari category, I think Montanans know exactly where I'm going with this. It was literally snowing when I wrote this... at the end of April. My friends and family who live in other more "mild" states were horrified when they heard that the temperatures were still dropping into the teens and snow was still a likely possibility. The good news is, the season has broke. The bad news is, here in Montana, that just means we have to keep even more gear around at one time.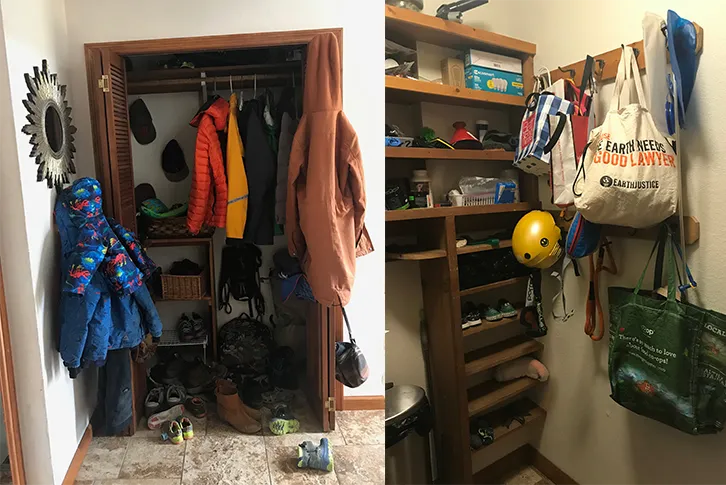 Being a Konmari devotee, I took the first chance I got this year (Late March) to clean and declutter our mudroom/front entrance of the winter wardrobe and bring out the lighter, Spring attire. Total rookie mistake, I know. So after the return of winter the past few weeks (right in synch with Game of Thrones ), I've had to humbly restock some coats and boots to the closet. But all was not lost. It was a great opportunity to Konmari a space I hadn't gotten to yet.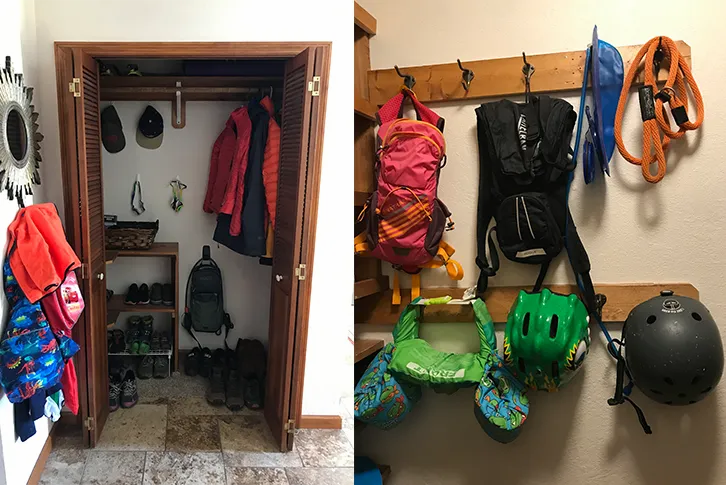 Even though some items had to come back out, there were about a dozen hats, gloves and several pairs of ski boots that could be put away for reals. Marie advises not to store seasonal items away, but Marie doesn't live in Montana. While her guilty pleasure might be fine purses, mine is fine Patagonia coats (true story, I have a problem) and they don't all fit in our front closet.
We store our boots and skis in the basement laundry room while hats, gloves and coats go into the back of our bedroom closets for the summer. This frees up a lot of space to accommodate the extra transitional items that we need to keep in our entryway.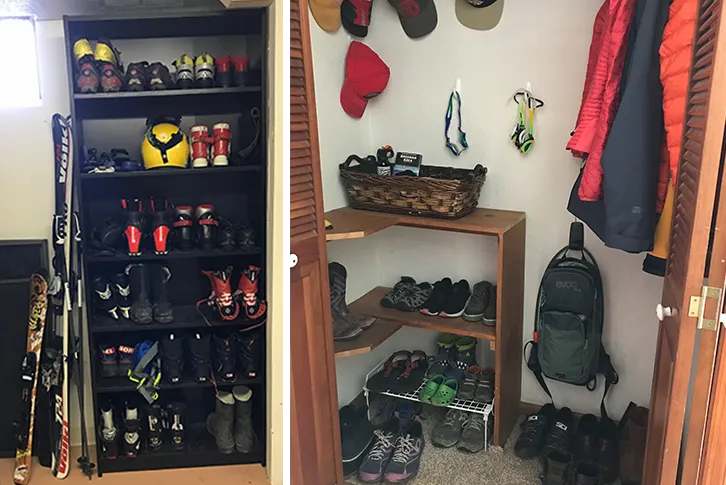 Side note: I once read in a Feng Shui book that it was better to point shoes outward, so that's why we do it that way. Just one more request that causes my husband to give me an eye roll, but I'll gladly take it if this habit really means "keeping our family progress moving forward"(or something like that). However, I'm a little freaked out after my brief internet search for the reasoning behind this feng shui practice and multiple sources called the toe of shoes the "evil point" and recommended them never pointing at you. Soooo, if anyone out there has a clear answer on how to properly store shoes, please let me know!
With (most) of the winter clothes stored away, I took the opportunity to discard any last season sandals, shorts and T-shirts from my boys' dressers. Then I dropped into Once Upon a Child to sell and refresh their spring/summer wardrobe with items I know they'll be needing soon. While I was there I noticed they too are gearing up for the warmer weather. They had awesome yard toys, bikes and motorized vehicles for sale. Those are also their most desired items to buy now, so if you have any of those that your kiddos have outgrown, now is the time to get them out of your house and get some extra cash in your wallet!
In addition to giving this space the good ol' Konmari job, I thoroughly cleaned the floors and doors. I was seeing such a transformation that I took it a step further and found these new door knobs to give it even more "zhuzh" ( Queer Eye reference, and my latest late night folding obsession).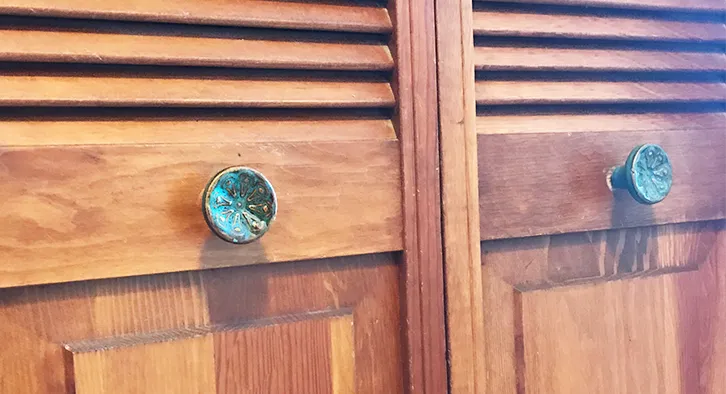 After decluttering our entryway, it dawned on me how important this space is to the overall feel of the house. It's the first place you see and smell when you walk in, as well as the last when you leave to go out into the world. This year's winter was long and dark, now is the time to get this area back into tip-top shape. I promise, it'll make a huge difference!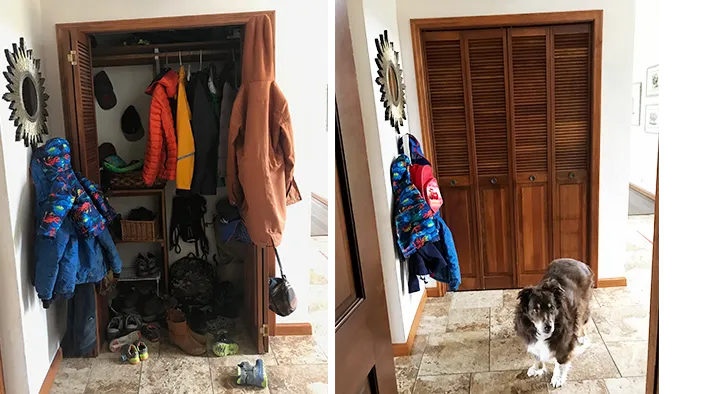 It can be a messy world. Good luck out there and I'll see you on the tidy side.
Stay tuned for more "Adventures in Tidyinghood!"
_____
Jessica Geary-Cecotti is the Social Media Manager for Montana Parent and owner of her own graphic design studio, Flora Fauna Designs . Nature and animals have always held a special place in her heart and continue to be her most profound source of inspiration. She is the mother of two wildly awesome boys and borderline believes in mermaids.
Thank You to Our Sponsors