Adventures in Tidyinghood: Back to School
August 19, 2019
Posted By: Jessica Geary-Cecotti
:: WRITTEN BY JESSICA GEARY-CECOTTI ::
Let me just start by saying that everything you're about to read applies as much to me as any of you. My oldest is going in to the first grade, so technically this is my first "back-to-school" year. However, I feel that some good ol' organizational hygiene can do wonders to ease this transition (check out the August issue of Montana Parent for a plethora of other back-to-school tips and tricks including bedtime routines, after-school snacks, first day of Kindergarten, how to deal with bullying and more).
I know floating down the Madison with a beverage in your hand sounds more appealing than what I'm about to propose, but your future self will thank you. If you're familiar with the Konmari method or had the chance to read my earlier blog, Adventures in Tidyinghood: Kid's Clothing, you're aware that keeping a close eye on your kids' closets and dressers is key to a tidy or at least tidy-ish (my personal goal) home.
Kids grow fast and their style can change just as quickly. It might seem excessive to update their wardrobes quarterly, but if you subscribe to the notion that everything you own (including clothing) should spark joy  (I do), then it's a step you can't overlook. And back to school is the ideal time for such an update. With that being said, I know doing frequent wardrobe replenishes can be expensive. That's where Once Upon a Child comes in...
I got a jump-start (rare for me) on some school clothes shopping as soon as I heard that Once Upon a Child was having a huge clearance sale, we're talking 70-90% off. But before I went to the store, I did a major wardrobe check for my older son (an essential part of the Konmari method). I pulled out what he no longer needed or had outgrown and did an accurate assessment of what was required to start the school year off with a well-balanced wardrobe.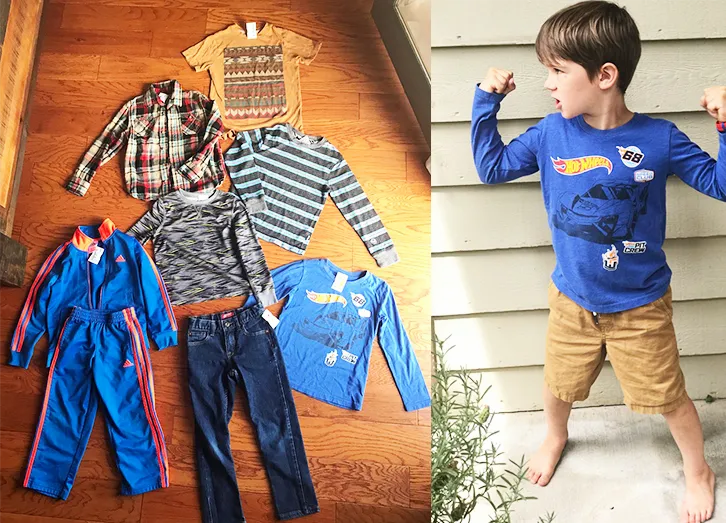 Getting some unique pieces that not every other kid will be wearing is pretty cool. And as you can see, my kiddo loves his new digs.
I scored pretty much everything we needed for only $24 and change. Three of the items were literally under 50 cents. I was so excited about my loot that I did some simple math to see how much I actually saved by going to OUAC versus a popular retailer. Now I LOVE Target as much as the next person, but if I had bought roughly the same items there, I would have spent $122. So, I basically saved $100 by purchasing gently used items (this doesn't even take into account the few items that I sold and got paid cash for on the spot!). But saving money isn't the only reason I love to shop like this. I also love to support local business owners and families that make extra cash selling their old items, not to mention it's environmentally friendly (which I like to be when at all possible).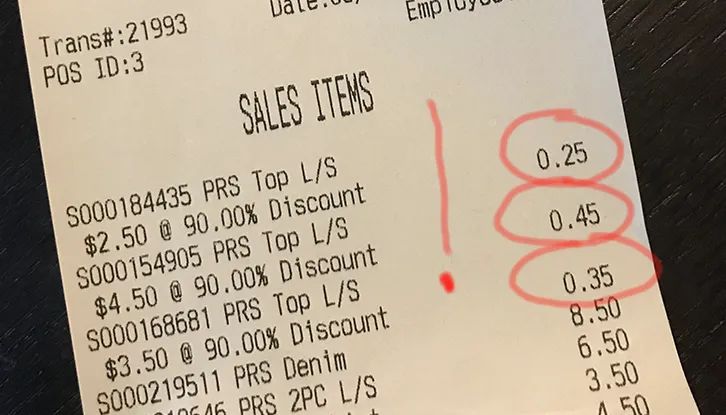 After our shopping spree, we immediately clipped the tags (Marie says this is like officially welcoming the clothes into your home), washed them, folded them (you know it!) and lovingly placed them in the dresser.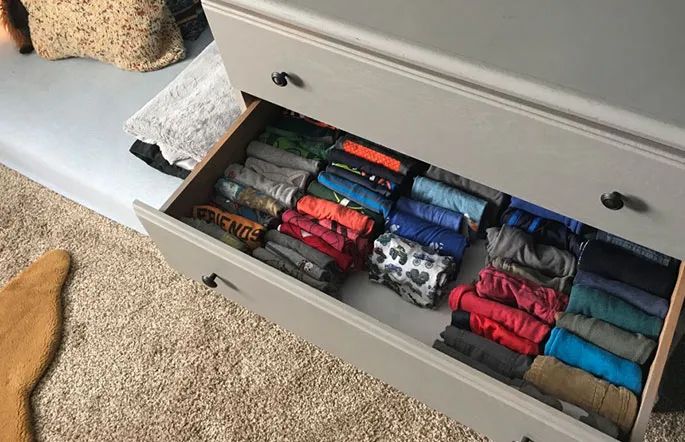 I still have a little more back-to-school shopping to do but am feeling extremely satisfied with my progress so far. Knowing that I haven't blown my budget on some basic items, I feel good about splurging on a more expensive specialty item or unexpected expense later on that will inevitably come up.
Our transition into the school year will be much smoother after purging and updating my first grader's closet. I promise it'll be worth devoting a half day of your precious summer for a fresh start this fall.
It can be a messy world. Good luck out there and I'll see you on the tidy side.
Stay tuned for more "Adventures in Tidyinghood!"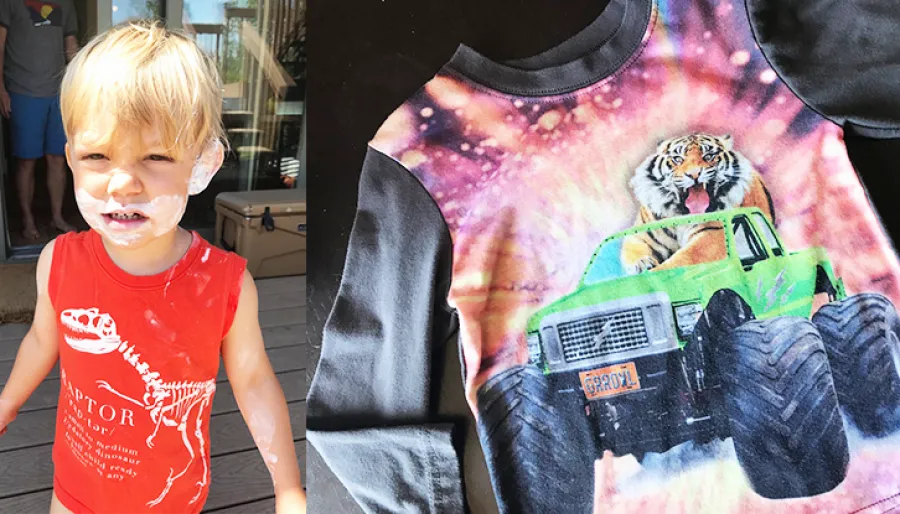 Some items I picked up for my youngest. Don't mind the sunscreen beard, all part of a normal day at our house. 
_____________
Jessica Geary-Cecotti is the Social Media Manager for Montana Parent and owner of her own graphic design studio, Flora Fauna Designs . Nature and animals have always held a special place in her heart and continue to be her most profound source of inspiration. She is the mother of two wildly awesome boys and borderline believes in mermaids.
Thank You to Our Sponsors